Seniors and Special Needs Pets have a special place on earth. I believe they should be treated with extra love and respect.
Any Special Needs animal has something to contribute to our lives. Have you ever noticed that your wonderful pet, that depends solely on you, has an extraordinary personality that makes up for the extra care that he/she needs? That is one of the reasons why we devote our love and time to these special creatures. They give back to us 1000 times over!!
I have Special Needs and Seniors myself and have found that local Kennels and "Pet Resorts" are not very flexible on your pet's schedule. They have time restrictions or charge exorbitant amounts for personnel to attend to our pets needs.
I know first hand what it takes to care of an animal that requires strict schedules, special diets and medications that need to be given ON TIME.
I want to share my knowledge with you to help your pets live long and healthy lives for years to come.
I have the knowledge and experience to deal with Diabetes, Check Glucose Levels, Administer Medications and Injections, Allergies, Geriatrics, Blindness and Deafness.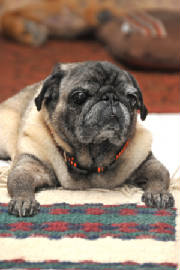 It has been said that animals bring a certain peace and inner strength to all of us.
Meet little Miss Abigail - she was a very special "special needs" animal. Abigail was 11 years old and had been through many surgeries in a short time. Her heart was not in the normal place, her legs don't fit into their sockets and she has had intestinal blockage surgery and an emergency surgery for pyometro. She faced the removal of both of her eyes in January and February of 2012. Again, after all that she came through like a trooper. But something happened and one morning she woke up, ate, and then couldn't breath. Her little body just could not take anymore and she couldn't recover. I had to say good-bye to this precious, precious girl on March 30, 2012. There is a big hole in the house now but her spirit it always around.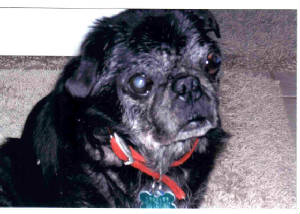 On Thursday, August 3, 2006 I had to send this wonderful friend and companion to the Rainbow Bridge. Old age had finally gotten the best of him and although we only had 2 years together, it was a wonderful 2 years. Ash touched many hearts in the short amount of time he was with me. I know these past years were the best of his life. I know this because he told me so - he told me every day by his bark, his tail wagging, his excitement to see me and his kisses. I will miss his 5am wakeup call for breakfast and his 5pm reminder bark for dinner. I will miss his bulging eyes when he got excited and his cute little butt when he walked down the hall to go to bed. He touched my life - much the same way Mingus did. For that, he will be truly missed.
I love you ASH - know that I will always love you.
MOM.
There is a hole in my heart that is bigger than the Grand Canyon...... your Mom.
I want to thank the Cooper Family of "All Pets Great and Small Cremation Service". I met this wonderful family 2 weeks prior, when I lost my veiled chameleon, Abby Normal.
This family has a wonderful and unique service for all who have lost a beloved pet and cremation is their process of choice. The service they provide gave me peace knowing that Ash was in good and loving hands. I only wish they had been around when I lost Mingus. I took Ash there myself and said my final good bye's. I had closure because I knew where Ash was and that he was being treated with the dignity and respect he so very much deserved.
I will always be grateful to all the people who helped me through this most difficult day.
I thank you ALL!!
It has always been the "not knowing" where my loved ones are sent that has been the hardest for me.
The Cooper's have opened this facility and everyone is welcome to come in. They are a family of animal lovers, as we all are, and have taken on the huge responsibility of giving our beloved companions the final dignity and respect they deserve.
I highly recommend their services to everyone visiting my website.